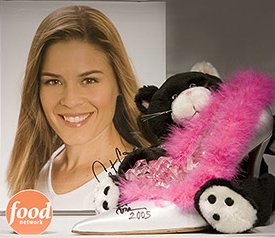 Food Network Chef Cat Cora and her signature stiletto
A newly formed partnership has been forged between the Food Network Channel and shoe designer Stuart Weitzman, in honor of National Breast Cancer Awareness Month, involving several pairs of exclusive, one-of-a-kind shoes that have been designed and autographed by Food Network personalities. The crafting of each shoe reflects the creator's culinary style, as well as the personality that has made him or her a household name. Auction proceeds for this project will be donated to the
Cancer Research Institute
which funds leading immunologists in the fight against breast cancer. Each presentation is an original piece of artwork using a 1/2 pair of Stuart Weitzman's signature stilettos. And, shoe lover that I am, needless to say, for those who can afford it (after checking out the price list below -- you'll see what I mean) I think this is a wonderful approach to aiding in the fight against breast cancer.
Click
here
for the actual pictures of these shoes and the Food Network personality whose name they bear.
I gotta say... I'm really loving that pair of Mario Bateli stiletto pumps already. Looking fabulous, Chef Mario!
Mario Batali $450.00
Alton Brown $800.00
Warren Brown $250.00
Michael Chiarello $502.00
Cat Cora $600.00
Paula Deen $2,100.00
Giada De Laurentiis $2,502.00
Gordon Elliott $500.00
Bobby Flay $402.00
Emeril Lagasse $520.00
Sandra Lee $860.00
Dave Lieberman $325.00
Rachael Ray $2,050.00
Al Roker $1,002.00
Marc Summers $600.00
Dan Smith & Steve McDonagh $250.00
Robin Miller $302.00
Good Wednesday, all (with a thoroughly soppy and wet one on tap for us here in the New York area today. Yick!). Peace.