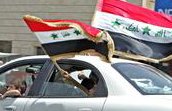 After pulling up at a local gas pump this morning and filling my tank at $2.79 for regular gasoline, needless to say, it does *not* make me a happy camper to hear that the same regular gasoline in
Iraq
sets drivers back an average of...five cents. No, that's right, I didn't say five dollars, I said, five CENTS.
This, while regular gas prices remains in the high two dollar figures here in the US, and in some areas now even upwards of three dollars. And of course, across the pond the Brits are also certainly feeling the pinch at approximately $6.24. According to various reports, Iraqis also pay much less for a gallon of regular gasoline than in nearby countries such as Iran (38 cents), Jordan ($1.89) and Syria ($1.74). And, no doubt, to the extent where some Iraquis are now selling their cheaper gas to their Middle Eastern neighbors on the black market. But, er...that would be yet another story, wouldn't it?
Anyway, switching gears on the home front, I'm very proud to share the recent press releases of two of my good friends in the writing life.
Michelle Miles
is a thoughtful and talented author at
Keep It Coming
, an online venue dedicated to serialized fiction. She's clearly a name to remember, as I do believe you'll be hearing her name in the book world in the very near future. She certainly possesses the talent to make it a
strong
possibility.
Devon Ellington
is another Keep It Coming author, the author of a new novella titled,
Elusive Prayers
-- and a one-woman "writing marvel." She has, and still continues, to churn out NUMEROUS writing projects, both fiction and non-fiction, as well as being a
champion
for writing as exemplified by her continued efforts in "networking" with others. Trust me, Devon, or the "Devster" as I sometimes call her, will never hesitate in shooting another writer an email to say, "Hey, I just saw that there's a call for this kind of writing at this particular magazine...and I immediately thought about you." And, you can also catch Devon's keen perspectives on the subjects of horse racing (this woman KNOWS her horses!) and hockey at
Femmefan
, one of my favorite sites for the "female sports junkie."
So congrats to both Michelle and Devon on their accomplishments, and do keep it coming, girlfriends!
Okay, that's it and I'm out. Have a great weekend, all. Peace.