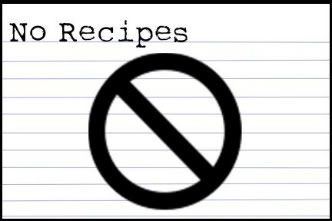 No, seriously.
And when it comes to following recipes, the sound of the smoke alarm ringing in your ears is never a good start. But in his new book, Cooking Without Recipes, food writer
Philip Dundas
promises to teach you to cook delicious meals with instinctive, effortless ease. Freed from the shackles of someone else's instructions, Dundas promises, your kitchen can become a playground -- minus the trusty iPad or the plastic recipe card file you just don't have the heart to toss in the bin. (Yeah, the one with all the sauce stains on the aging, yellowing index cards for Aunt Lola's beef goulash and Grandma Kate's chicken paprikash)
Take a few risks, Dundas echos through the pages reassuringly, and "you'll work it out".
I like it!
Read more
here
, and watch the clip below.