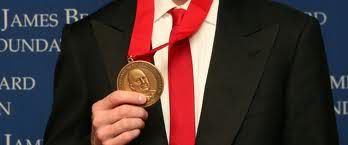 The results are in, and this past week most of the country's best chefs got together at Avery Fisher Hall here in NYC for the James Beard Foundation's annual chef and restaurant awards ceremony.
The big winners:
Eleven Madison Park (Outstanding Pastry Chef, Outstanding Restaurant), José Andrés (Outstanding Chef), Richard Melman (Outstanding Restaurateur), and Jean-Georges Vongerichten's ABC Kitchen (Best New Restaurant). But then again, there were some
other
chefs who took home medallions, too.
Rising Star Chef of the Year Award
: Gabriel Rucker, Le Pigeon, Portland, OR
Outstanding Wine and Spirits Professional Award
(Presented by Southern Wine & Spirits of New York):
Julian P. Van Winkle, III, Old Rip Van Winkle Distillery, Louisville, KY
Outstanding Wine Service Award
: The Modern, NYC, Wine Director: Belinda Chang
Best Chef: Great Lakes:
Alex Young, Zingerman's Roadhouse, Ann Arbor, MI
Best Chef: Mid-Atlantic:
Michael Solomonov, Zahav, Philadelphia
Best Chef: Midwest:
Isaac Becker, 112 Eatery, Minneapolis
Best Chef: New York City:
Gabrielle Hamilton, Prune
Best Chef: Northeast:
Tony Maws, Craigie On Main, Cambridge, MA
Best Chef: Pacific:
Michael Tusk, Quince, San Francisco
Best Chef: Northwest:
Andy Ricker, Pok Pok, Portland, OR
Best Chef: South:
Stephen Stryjewski, Cochon, New Orleans
Best Chef: Southeast:
Andrea Reusing, Lantern, Chapel Hill, NC
Best Chef: Southwest:
Saipin Chutima, Lotus of Siam, Las Vegas AND Tyson Cole, Uchi, Austin, TX
Outstanding Restaurant Design:
Aidlin Darling Design, Bar Agricole, San Francisco
Outstanding Restaurant Graphics:
Love and War, The National Bar & Dining Rooms, NYC
Outstanding Service Award (Presented By Stella Artois):
Per Se, NYC, Chef/Owner: Thomas Keller
Outstanding Pastry Chef Award:
Angela Pinkerton, Eleven Madison Park, NYC
Best New Restaurant (Presented by Mercedes-Benz):
ABC Kitchen, NYC, Chef/Owner: Jean-Georges Vongerichten, Owner: Phil Suarez
Outstanding Restaurateur Award:
Richard Melman, Lettuce Entertain You Enterprises, Chicago
Outstanding Restaurant Award:
Eleven Madison Park, NYC, Owner: Danny Meyer
Outstanding Chef Award:
José Andrés, minibar, Washington, D.C.