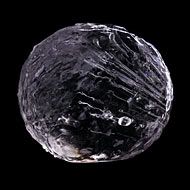 This month, New York's
B Flat
Restaurant's drink mixologist, Takaaki Hashimoto, is giving a video demo on
Star Chefs
where he demonstrates how to carve jewel-shaped and spherical ice, just like the ones on New York Magazine's slideshow of the
city's best cubes.
(Yes, folks...there seems to be a definite "art" to sculpting ice cubes, obviously stretching far and beyond those dinky little trays in our refrigerator freezers.)
By using only a few extra-sharp sushi knives and bare hands to shape a frosty slab of ice, Hashimoto makes the round "jewel" cut look especially easy.
Then again, given the sharp blades (and bare fingers) involved here, I really wouldn't suggest trying it -- at home.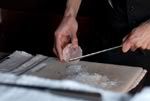 But on the other hand, if you
really
think you've got the ice sculpting "cojones" -- the end result might wind up looking as gorgeous as this: