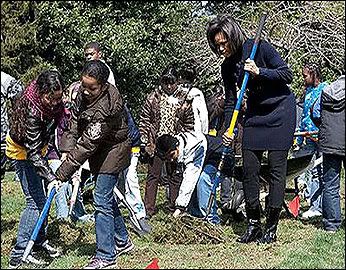 Environmentalists everywhere have been hailing Michelle Obama for her "digging" efforts on the South Lawn of the White House this past week.
The first vegetable garden since Eleanor Roosevelt's
victory garden
during World War II, will soon be sowed and lots of fresh, nutritious veggies will be springing forth.
However...there'll be *no* beets.
Like several of his predecessors, our sitting president has his definite likes – and dislikes – and beets have been firmly planted into his "hate 'em" column. Even though, arugula and lots of butternut squash -- are said to be making the cut.
In any case, a big "kudos for freshness" goes out to the Obama Administration for this past week's "groundbreaking."
Read more about it
here