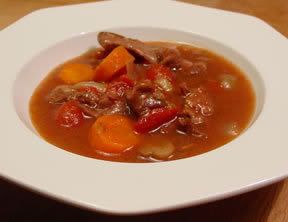 For this holiday weekend we here in New York are still hovering pretty close to single digit temps, with no immediate warm up in sight. And to that, I can't think of anything more welcome than hunkering down with a good book, cozy blanket, a fire in the fireplace -- and a nice, hot bowl of
stew
Hey, let's face it, there's really not a more perfect dish anywhere for a cold winter's days. Good, hearty, and satisfying, stew fills your belly and warms you up from the inside out.
And while we're on the subject, one of my all-time personal favorites (compliments of Epicurious) is Tuscan Beef Stew with Polenta:
Ingredients
For stew:
3 tablespoons olive oil
1 red onion, cut into medium dice
3 carrots, peeled and cut into 1/2-inch pieces
3 stalks celery, cut into 1/2-inch pieces
2 pounds stew beef, such as boneless chuck, trimmed of excess fat and cut into 1-inch cubes
2 1/2 cups dry red wine
8 sprigs fresh thyme
3 medium tomatoes, halved
3/4 teaspoon kosher salt
1/2 teaspoon freshly ground black pepper
For polenta:
1 tablespoon olive oil
4 cups vegetable stock or broth
1 cup polenta (coarse cornmeal)
Preparation:
Make stew:
In heavy, large saucepan over moderately high heat, heat oil until hot but not smoking. Add onion, carrot, and celery and sauté, stirring occasionally, until light golden brown, about 10 minutes. Add beef and sauté, stirring occasionally, until brown on all sides, about 5 minutes. Add wine and thyme, stir well, and bring to boil. Add tomatoes, salt, and pepper, then lower heat to moderately low, cover, and simmer, stirring every 15 minutes, until beef is tender, about 2 hours.
While beef is simmering, make polenta:
Pour olive oil into large serving bowl and swirl to coat. Set aside.
In heavy, large pot over moderately high heat, bring stock to boil. Lower heat to moderate and slowly add polenta, stirring constantly. Continue cooking, stirring constantly, until polenta thickens and pulls away from sides of pan, about 10 minutes. Transfer to oil-coated serving bowl and keep warm.
Serve:
When beef is tender, use tongs to remove tomato skins (if desired) and thyme sprigs. Transfer stew to large serving bowl. Serve polenta alongside.
Stay warm, and ENJOY!