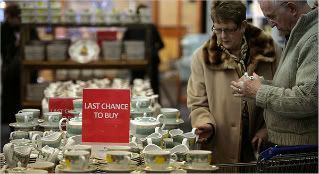 Yes, Queen Elizabeth, the Kremlin and the White House have been loyal customers over the years. But in the current economic climate, luxury crystals and ceramics are a tough sell, as
Waterford Wedgwood
finally admitted on Monday.
The company, which is based in Dublin and whose roots go back 250 years, makes and sells crystal vases, glasses, ceramic figurines and kitchenware. Even though, they will probably always be better known for making the world-famous Times Square New Year's Eve ball, as well as the crystal chandeliers that decorate Windsor Castle.
Waterford Wedgwood said on Monday that its 10 British units and 4 businesses in Ireland had been placed into administration, similar to bankruptcy protection in the United States, after running out of money and failing to find a buyer. The remaining subsidiaries, including those in the United States, Germany and Canada, remain unaffected.
Good grief, one begs to ask what…or who will be next in this horrendous global economy??
In any event, read more about the ongoing Waterford Wedgewood retail sales woes
here