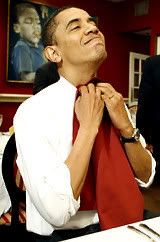 These days even in the culinary department, it's clear that there's a
new
Commander-In-Chief in town.
Outgoing President George W. Bush, who notoriously wouldn't eat anything "green" or "wet" is being replaced by one who loves his meals leafy, as well as straight from the garden.
"Apparently he is not into carbs," says Denver chef Daniel Young, who cooked for President-elect Barack Obama at the Democratic National Convention. "I made lots of fresh, healthy foods."
And though the family's been dutifully sampling local specialties like cheese steaks, fried chicken and pizza for the past year on the trail, word is the White House fridges will be stocked with noticeably
fresher
fare. Guaranteed.
But... there's even bigger news. In addition to the new White House menus to come, there are three top cooks on the short-list for the coveted title of White House Chef: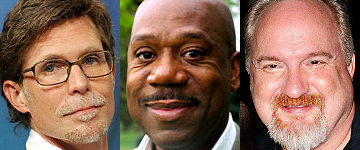 Art Smith:
Personal chef to Oprah Wnfrey. (Above right)
Daniel Young:
Personal chef to Denver Nuggets forward Carmelo Anthony. (Above center)
Rick Bayless:
Owner of
Topolpbampo
and
Frontera Grill
in Chicago. (Above left)
But then again... like many others, I can't help wondering why no female chefs appear on this list. And this is especially on the heels of First Lady Laura Bush's very successful appointment of
White House chef
Cristeta Comerford back in 2005. Hmmm....