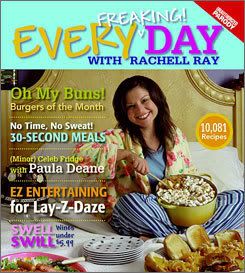 It's kind of a scary thought, even if I have on occasion found Rachael Ray's "perkiness" to be, well, kind of refreshing.
Anyway, despite the otherwise
spoofy
resemblence, look a little bit closer, as well as how the name "Rachell" is spelled. (Clever, huh?) It seems a new book titled,
Every Freaking Day! With Rachell Ray
by Elizabeth Hilts, parodies the food lifestyle magazine
Every Day With Rachael Ray
via some laugh out loud and "biting" hilarity.
This unauthorized spoof, released on Sept. 3, is packed with recipes and commentary from "Rachell" and photos of a "perky" brown-haired model who bears a striking-but-weird resemblance to the real Ray herself.
"She's very easy to parody," says Freaking author Elizabeth Hilts. "She has a lot of very recognizable mannerisms: talking with her hands, singing to the food, referring to food as an almost human entity."
In any case, even if the parody sells well, it's stll very unlikely to match the 7.2 million copies in print of Ray's six (yes, count them, SIX!) cookbooks. The seventh of which, is due out in November 2008.
So there...I guess. Once again, the real Rachael Ray has the very
last
laugh.