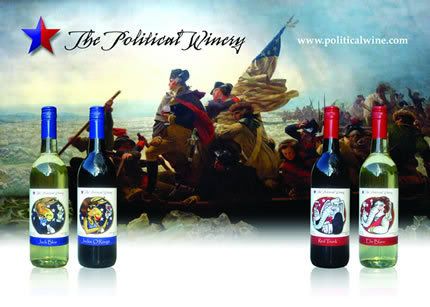 Just in time for the 2008 elections, the owners of the fledgling
Political Winery
are strategizing with distributors and campaigning to get its wines, made by
St. Julian of Paw Paw
, in front of political junkies nationwide.
Featuring labels with caricatured donkeys and elephants, the four-wine product line has two Democratic and two GOP varieties. Each party line offers a red and a white semidry blend, priced between $11.99- $14.99.
Here are two examples:
Representing the Blue States
Jack Blue
is their oldest wine, tracing his roots back to 1792. Through years of democratic reform, Jack Blue shed his more Republican ancestry. Enjoyed best with friends of all political stripes, but especially those seeking equality and social justice, Jack Blue is a wine for the common man. Although often criticized for having a disorganized flavor, Jack Blue is fermented following the principals of Jefferson and Jackson, culled from the vision of Roosevelt, Kennedy, and Johnson and finished with the ambition of Carter and Clinton.
Representing the Red States
Red Trunk
traces its roots to Jackson, Michigan where it was first uncorked 'Under the Oaks' in 1854. Whigs, Northern Democrats, and Free Soilers proclaimed that it was time to modernize the palate and formed a new Party pleaser for the masses to consume. Recent blends may be too conservative for some political tastes, but consumed in whole, Red Trunk is perfectly balanced with the Right juices. Red Trunk draws from Lincoln's responsibility, Teddy's tenacity, and Ford's humility.
How's that for two
well-pitched
political wines?
In any event, the state of Michigan ranks ninth in the nation in political spending, say the owners of the Political Winery, and it's also where the winery makes its headquarters. They also feel they can find plenty of Washington lobbyist customers looking for client gifts, party operatives organizing fundraisers, and armchair political junkies everywhere for their product.
So if you've been sold so far, these wines can be ordered:
here
Great for those last minute Election Night Coverage parties, no matter if you're red...or blue.