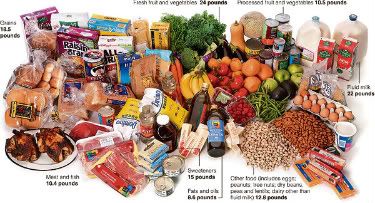 There's very little doubt that soaring gas prices are having a substantial affect on food prices, therefore sending grocery bills continually through the roof. Food banks are also running short of donations, and food shortages are causing sporadic riots in poor countries throughout the world.
But, it seems you'd never know this, especially if you saw what was ending up in your local landfills.
As it turns out, Americans waste an astounding amount of food — an estimated 27 percent of the food available for consumption, according to a government study — and it's happening at the supermarket, in restaurants and cafeterias and in your very own kitchen. And even with all the frenetic calls for more diet and exercize plans (to counteract all that food we American chubsters really DID wolf down) -- this works out to about a pound of "wasted" food every day, for every American.
Grocery stores discard products because of spoilage or minor cosmetic blemishes. Restaurants throw away what they don't use. And consumers toss out everything from bananas that have turned brown to last week's Egg Foo Young leftovers. In 1997, in one of the few studies of food waste, the
Department of Agriculture
estimated that two years before, 96.4 billion pounds of the 356 billion pounds of edible food in the United States was never eaten. Fresh produce, milk, grain products and sweeteners made up two-thirds of the waste. And, the study didn't even account for the explosion of ready-to-eat foods.
America's Second Harvest
, a group of more than 200 national food banks, reports that donations of food are down 9 percent, but the number of people showing up for food has increased 20 percent.
A never-ending conundrum, for sure. And, reports show that the problem isn't only unique to the United States.
Read more
here
Also: Check out what author Jonathan Bloom has to say about wasted food in America over at:
wastedfood.com