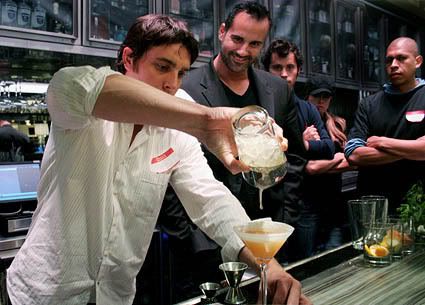 Let's face it, if all cocktails were designed by
Ryan Magarian
and made by bartenders who have been through his training program, we'd be a country of seriously raging alcoholics.
But of course, it would be very expensive. And of course, he'd never want it that way.
"I'm not trying to get people to drink more. I'm not getting people to drink less. I just want you to drink better," he says. And his ongoing passion and conviction for the art of "The Cocktail," gives you no other recourse -- than to believe him.
The 10-plus years Magarian has spent concocting thousands of drinks and customizing cocktail menus for clients such as the Holland America Cruise Line, Fairmont, and the Sofitel Hotels chains, certainly hasn't dampened his enthusiasm one bit. But lately the "associates" in his firm,
Liquid Relations
, crisscross the globe when he needs to stay closer to home in Portland. Magarian's other venture,
Aviation Gin
, takes his ambition one step further by allowing him to formulate actual raw materials, not just ingredient combinations.
Ah, the life of a master mixologist in contemporary American cocktail culture.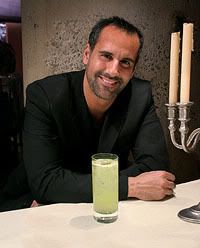 And just in time for a cool summer thirst quencher, is Ray Magarian with his creation, the "Kiwi Envy" (pictured here).
Kiwi Envy
A complete balance of fruity texture, mild sweetness and tiny tart aftertaste makes this one
perfec
t for those warm, backyard grilling days ahead.
4 thin slices of peeled kiwi
1 ½ oz. dry gin
¾ oz. St. Germain Elderflower Liqueur (AKA "angel spit")
½ oz. freshly squeezed lime juice
½ oz. simple syrup
1 oz. soda
Kiwi slice (with skin on) and lemon wedge
1. In a pint shaker glass, add kiwis and hand press with muddler
2. Add spirits and mixers, fill glass with ice, cover with shaker tin, and shake vigorously for 6 seconds
3. Add soda and strain over fresh ice into Collins glass
4. Garnish with kiwi slice and lemon