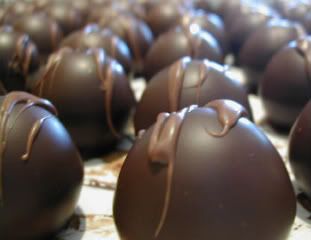 New York Times writer and cookbook author, Mark Bittman, a k a The Minimalist Chef, makes a simple, sophisticated dessert out of an otherwise "intimidating" one called,
Chocolate Ganache
.
(Why is it that those "Frenchie" names are just too "shee shee" and scary for words?)
Anyway, watch
here
how Mark Bittman brings this chocolaty "high brow" dessert down to earth. (He promises...that this one is so darn easy, it's really hard to screw it up.)
Then, watch how the Mini-Minimalist, 3-year-old Jaden Carda, gives his version of the same receipe. Clearly, this pint-sized chef has spent time banished to his play area with nothing but Mark Bittman recipe videos playing over and over in the background.
Totally cute stuff, though.