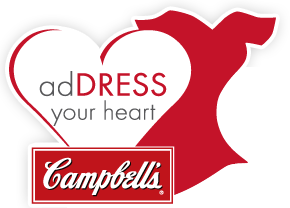 It's something that too few people realize. Nevertheless, heart disease ranks as the #1 killer of American women -- and men.
But the good news is that heart disease can largely be prevented. And that's the committed goal of the
American Heart Association
and their Go Red For Women movement—empowering women with knowledge and tools so they can take positive action to reduce their risks and protect their health.
Thanks to the participation of millions of people across the country since 2004, the Go Red For Women movement's signature red color and red dress have become linked with the ability women have to improve their heart health and live stronger, longer lives.
So join in supporting
Go Red For Women
.
And don't forget to
Click
here on the dress design donated by
Lisa Perry
that was voted the winner for this worthy cause. For each click, Campbell's is donating $1 to the Go Red For Women movement. And what's more, if you just happen to be a 1960s Andy Warhol "pop art" lover, then these dress designs would probably be -- totally
you
.
Also: Check out this video clip and designer Lisa Perry's own words about her involvement in this campaign: