Executive Chef Wilo Benet, owner of Pikayo and Paya
On the heels of his success with his two flagship Museum restaurants in Puerto Rico, his first cookbook offering is titled
Puerto Rico True Flavors
, and it's the culmination of
Wilo Benet
and his mastery of Puerto Rican cooking, his expertise in preparation, creativity, and finely-honed skills.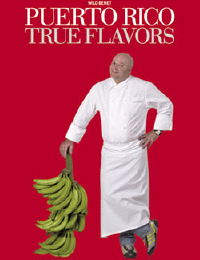 Merging the tastes he grew up with, from his mother's "from-scratch" cooking, his grandmother's well-loved recipes, lunchtimes at public school, street vendors' fritters and roasted chickens, and all the other everyday-food influences of Puerto Rico, together with his exceptional culinary talents, he brings those historic true flavors of the Island into the 21st century.
Learn how to make authentic Basics (adobo, escabache, mojito); Fritters (alcapurrias/stuffed yautía, bacalaítos/salt cod fritters); Soups such as sancocho/root vegetable & beef; Meats like carne mechada/stuffed pot roast; Fish (camarones al ajillo/shrimp in garlic sauce); Plantains (amarillos/sweet plantains, arañitas /plantain spiders); and Desserts (flan/custard pudding, dulce de lechosa/candied papaya), to name just a few of each.
From the Adobo based rubs and achiote seed oils, to the artfully completed recipes and methods, this book is another one of my picks for a must-have for any cookbook shelf.
Here's a video clip of Benet's surefire recipe for one of my favorite Puerto Rican taste treats, Pastellitos.: