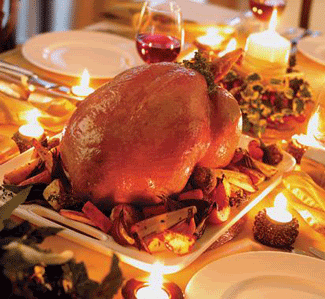 Just in time for the Thanksgiving holiday "stuff fest," the perfect opportunity to learn how to pair your holiday bird with wine comes with Natalie MacLean's easy-to-use tool for pairing the right wine with the right meal.
With her
Wine And Food Matcher
, you can search by wine if you're looking for meal inspirations
(including recipes)
or search by food to find great wine suggestions.
In MacLean's new book,

Red, White and Drunk All Over: A Wine-Soaked Journey From Grape To Glass
, she explores food and wine matching further, with each glass representing a personal history. Filled with entertaining wine facts and quick-witted anecdotes, with a section of the book devoted to different shapes of wine drinking glassware she reminds us all that "life is too short to drink good wine out of bad glasses."
Words to live by, no doubt.
Oh, and by the way, two of my own personal picks for the best Thanksgiving wine:
Pinot Noir:
An aromatic red wine that adds its own unique appeal. Generally light in body, with soft texture as a counterpoint to its lovely aroma, Pinot Noir is easy to love, especially among the many flavors of Thanksgiving.
Beaujolais Nouveau:
Every year in November, the first wine of the harvest in the Beaujolais region in France makes its way to market. This wine is as fresh and appealing as its name, made from the
Gamay
grape, fresh, purple -- and no pretension. It totally complements Thanksgiving and can be enjoyed slightly chilled. It's also likely to please those who favor white wines as well.