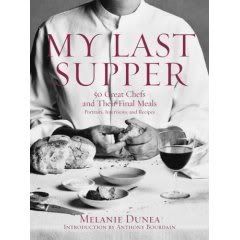 What would it be? And, what would it be like?
Vanity Fair photographer,
Melanie Dunea
, has come up with a "picture perfect" way to ask these questions of fifty of the world's most famous chefs.
Dubbed as "Annie Leibovitz meets Heat," in her new book,
My Last Supper: 50 Great Chefs and Their Final Meals/ Portraits, Interviews, and Recipes
, Dunea showcases their fascinating answers alongside stunning Vanity Fair—style portraits. Their responses are clever, refreshing, and as distinctive in their individuality as each of these chefs in their own right.
The intimate
portraits
are strongly supported by their answers and reveal the passions and personalities of the most respected names in the business. As an added bonus, one recipe from each landmark meal is also included in the back of the book.
With My Last Supper, Dunea found a way into the typically harried, hidden minds of the people who have turned preparing food into an art. Who wouldn't want to know where
Alain Ducasse
would like his last supper to be? And who would prepare the final meal for
Daniel Boulud
? What would the guest list of "extreme-eating" chef and world traveler,
Anthony Bourdain
look like? As the clock ticked, what album would
Gordon Ramsay
be listening to? And just what would
Mario Batali
eat for the last time? Inquiring minds, will find out.
The book features:
Ferran Adrià, José Andrés, Dan Barber, Lidia Bastianich, Mario Batali, Rick Bayless,
Michelle Bernstein, Daniel Boulud, Anthony Bourdain, Scott Conant, Gary Danko,
Hélène Darroze, Alain Ducasse, Wylie Dufresne, Suzanne Goin, Gabrielle Hamilton,
Fergus Henderson, Thomas Keller, Giorgio Locatelli, Masa Kobayashi, Nobu,
Jamie Oliver, Jacques Pépin, Gordon Ramsay, Michel Richard, Eric Ripert,
Marcus Samuelsson, Charlie Trotter, Jean-Georges Vongerichten, and more.
Click
here
for the stellar My Last Supper Book Launch Party held at
Le Bernardin
.
*Note* The Lenny Karvitz look-alikes are killer.