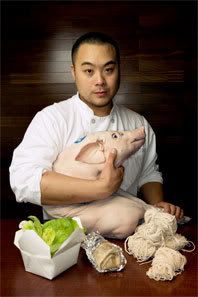 Radical (and pork-loving) chef, David Chang
Best noted for making strange, cheap, but mesmerizing food at
Momofuku Noodle Bar
and
Momofuku Ssäm Bar
here in NYC, rising star David Chang was crowned as the James Beard Foundation's
Rising Chef for 2007
this past week at their annual
gala event
at Lincoln Center.
Momofuku, is known best for its Japanese ramen (noodles)-- by way of a Carolina whole-hog barbecue, with a hint of French technique (thrown in for good measure, of course). Talk about that "smoky hog" pork flavor along with the succulent essence of Berkshire pork bellies. Yowsa. The pork-prone chef artisan's typical "Meathead" cuisine -- at its finest.
In any event, in view of Chang's latest coronation, the good folks over at

Grub Street
have found the location of the long-rumored third Momofuku here in New York. With no definite time frame, a source close to Chang said that in the near future, a Momofuku Noodle Bar very similar to the current one will open up in a nearby location on Second Avenue, and that the overcrowded original (based on the well-known truism that "mesmerizing foods" keep patrons rolling in for more) will be remade into a fine-dining restaurant.
Mega congrats to Chef Chang... and stay tuned.