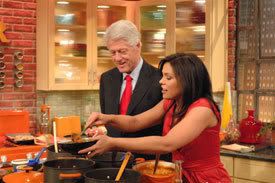 Rachael Ray and former President Bill Clinton
Think you've heard the last of Rachael Ray and her favorite catch-phrase, Yum-O? Well, sorry... but think again.
The reigning queen of the 30-Minute Meal and how to eat while traveling on only $40 A Day, has formed an alliance with former President Clinton to fight childhood obesity.
She appeared this week on the set of her daily
TV show
(produced by Oprah, and much loved by Oprah devotees far and wide) with Clinton who revealed his love of cooking, along with his lifelong battle of the bulge. He then mixed tales of his weight struggles with a tutorial on the challenges of childhood obesity. Even though Clinton eventually began running 20 miles a week to try to stay slim, he always thought eating fast food was fun. About 13 million children are overweight, Clinton said, and starting with this generation, 1 in 3 are expected to develop Type 2 diabetes. For the first time, there's a possibility that American children might not outlive their parents. "It will be immoral if we let it happen," he said.
Through Ray's daily show and her new web site,
Yum-O
, she's hoping to help a family figure out how to hit the grocery store on a Sunday afternoon and come home with the right ingredients to make three simple meals for the week.
Ray will work with the Alliance for a Healthier Generation, the organization that Clinton's foundation and the American Heart Association created to combat diabetes and childhood obesity.
The alliance last year elicited promises from soft-drink and food manufacturers to sell healthier products in school vending machines. It also works with schools that are reforming their lunchrooms and physical education programs. Yum-o will reward schools doing innovative work with Ray's line of cookware or even an appearance by Ray herself. Ray and the Alliance are also promoting the Go Healthy Challenge, part of the Nickelodeon series
Let's Just Play
, which will soon begin its second season.