Like the old song that talks about, "Drinking rum and Coca Cola" I'm totally loving
Confessions Of Super Mom
author (and my good friend) Melanie Lynne Hauser's description of her recent vacation to Cancun:
I was lying in the sun being served rum drinks by men in crisp white uniforms. (And no, I wasn't hanging with Lindsay Lohan at her latest "rehab center.")
Yum.
And what a lucky girl -- considering all the ice-snow-slush-mush-muck weather many of us are still facing here in the northern sector of the good old U.S.
In any event, thanks for putting me in that
tropical
state of mind, Mel. And while we're on the subject, check out the ingredients for one of my personal favorites for a cool rum concoction, the
Mai Tai
: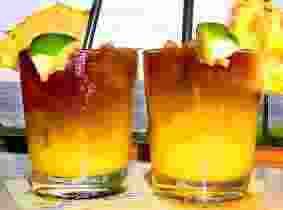 4 ounces light rum
2 ounces Triple Sec
8 ounces passion fruit juice
Ice cubes
2 ounces dark rum
Lime wedge
Mix first 3 ingredients together in a cocktail shaker. Place ice in glasses. Divide mix among glasses and float 1 tablespoon of dark rum over each glass. Garnish with lime wedge.
Also: Be sure to check out Melanie Lynne Hauser's latest continuation of the Super Mom saga titled
Super Mom Saves The World
. And it just so happens that a FREE (yes, that's right, folks) copy of the book along with a FREE Swiffer Duster (hey, after all this is Super Mom we're talking about here) can be yours. Check out the details over at Melanie's
Refrigerator Door
blog and
website
.