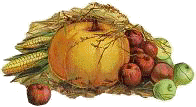 Although you're probably *more* than aware of it, the clocks falling back an hour this weekend is yet another sign that t'is the season for pumpkins, apples, and all other harvest foods. And a thorough guide for the best locations for the picking of these autumn delights is here at
Chiff.com
(the "ff" is for "fast find")
Among the links and loads of information on the subject here, are those featuring an
agritourism
listing of farms around the world that welcomes tourists to harvest their own fruits and vegetables. According to these, September and October are the big months for apples and pumpkins-- but you'll also find plenty of fall raspberries and winter squash around this time too.
So if you've got an extra minute spare and want to take advantage of this
fantabulous
time of the year while you still can, take a look, and enjoy.