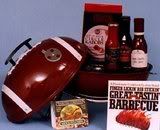 Yes, it's the question on the minds of many, now that the "fall and football" seasons are officially here. So be sure to check out all the latest (and more) on this subject over at
Tailgating America
.
And while you're there, ever wondered what they're cooking on the parking lot grills in Green Bay, or Pittsburgh, or closer to home for me...right here across the Hudson River at the Meadowlands Arena in New Jersey? For the answer, take a look at
Recipe Themes
, for what fans of the AFC and NFC teams are whipping up and charbroiling this season. Also, for the latest in custom-built tailgating buses to get you to and from the game, you've got to check out the
Fanatical Vehicles
page.
Are these some of the most flat-out, totally and completely devoted football fans you've ever seen, or what??
Go team.