This week marks the three-year anniversary of Mayor Mike Bloomberg's smoking ban here in New York City. It also mirrors the same kind of bans that enable the more lungs-friendly, smoke-free environments found in present-day locations worldwide. But as for its global impact on the bar and restaurant industry-at-large, an industry that still caters to patrons who would relish the opportunity of lighting up with that second glass of Merlot, the question is still the same:
Has it been good, or bad for business?
Several top NY restaurant owners and operators weigh in on the subject
here
in New York Magazine's recent impromptu poll. Surprisingly, there are some rather interesting responses, including one from celebrity chef (and ex-smoker), Mario Batali.
By the way, if there were a prize handed out for the most attention-getting
No Smoking
sign in existence, I guess this one would probably get my vote: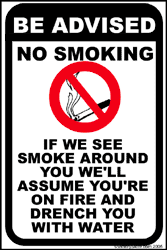 It's Monday again, gang. Make it a good one, along with an even better week. Peace.